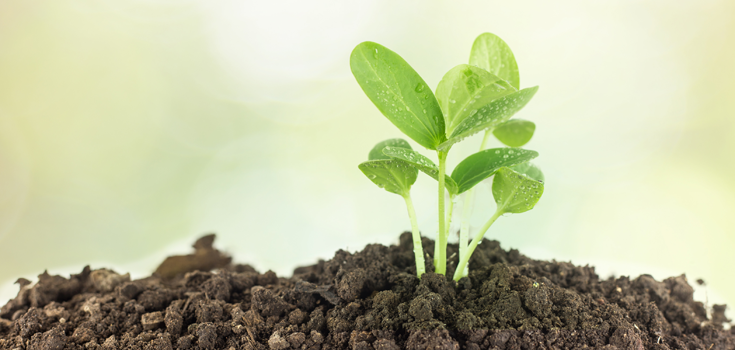 Tell us what you want!
If you have your own ideas for new features or you think that something could be improved in our application, do not hesitate to share your opinion. Send your suggestions to us via our Support Service. There, you can upvote or downvote new feature requests placed by other users. That way, you can have a significant impact on the development of our application.
This April we introduced a lot of changes to our registration process. First of all, we released brand-new account plans remaining a free option for small projects, and delivering more competitive prices for the others. Secondly, we launched a separate registration for free academic accounts meant for students and lecturers.
During this same period we also implemented two application upgrades that might not be landmark changes by themselves, but that certainly gave our users some nice new features. Below, you will find a list of these ones that we consider the most useful.
1. "Create New Model" Icon Added
We added a new "Create new model" icon to the main toolbar. It lets you to create a new database model with a single click without leaving your workspace.
If you click the icon when working on another database model, the current model will be saved and the "Create new model" panel will be shown.
You can return to the previous model at any time by clicking the name of an open model and choosing the name of the database model you want to open from the list.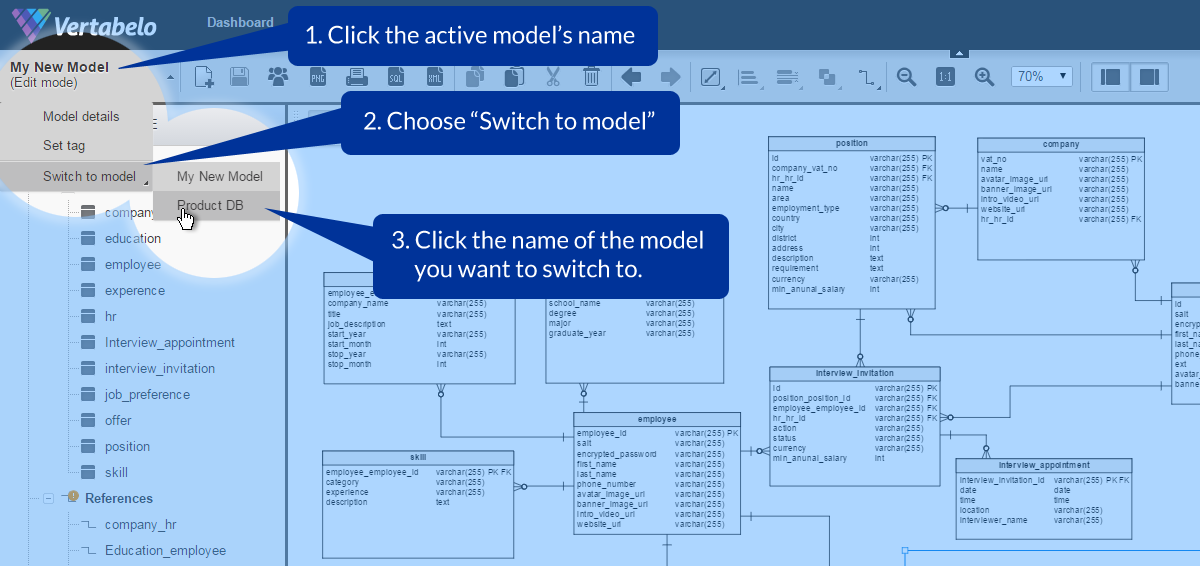 2. Disabling Automatic Foreign Keys Generation
Some users commented that automatic foreign key generation (which was a default option) didn't follow their style of work with diagrams. You can now disable this option – just change the "Autogenerate FK" option to "No".
This new option is found in the "Preferences" section of the "My account" panel.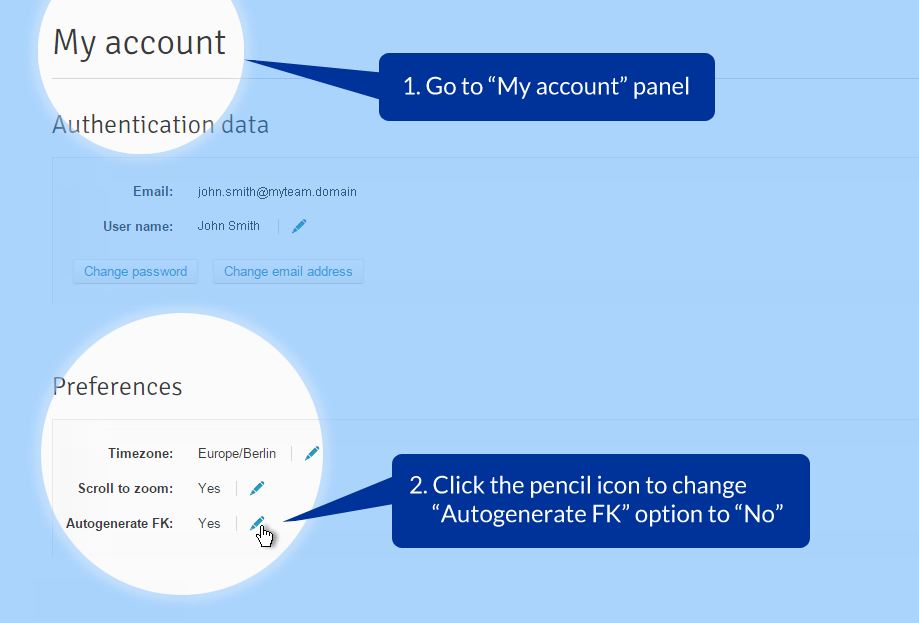 3. Better Export to Image for Subject Areas
Now, when you select the subject area and then click the export to PNG icon, all elements within the selected area will appear in the exported image.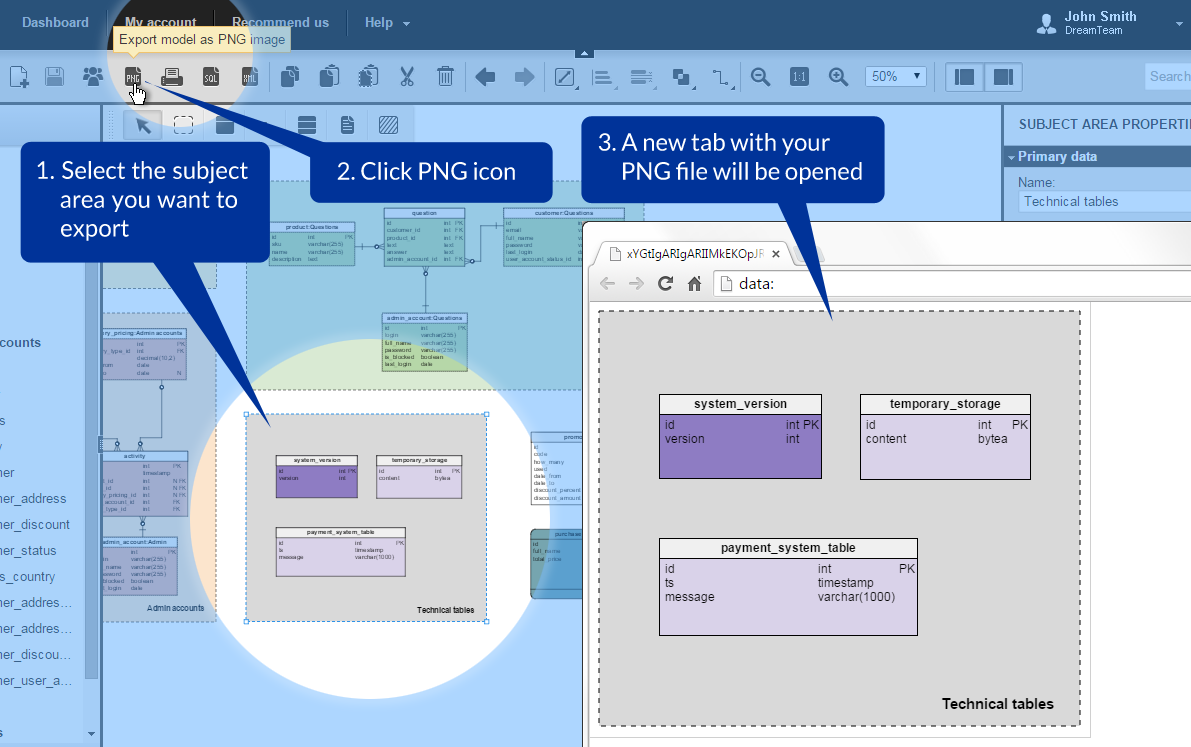 4. Inviting Users to Share Model During Cloning Operation
If you have been sharing a model with other users and you decide to clone it, you can now invite all or some of these users to share the cloned model as well.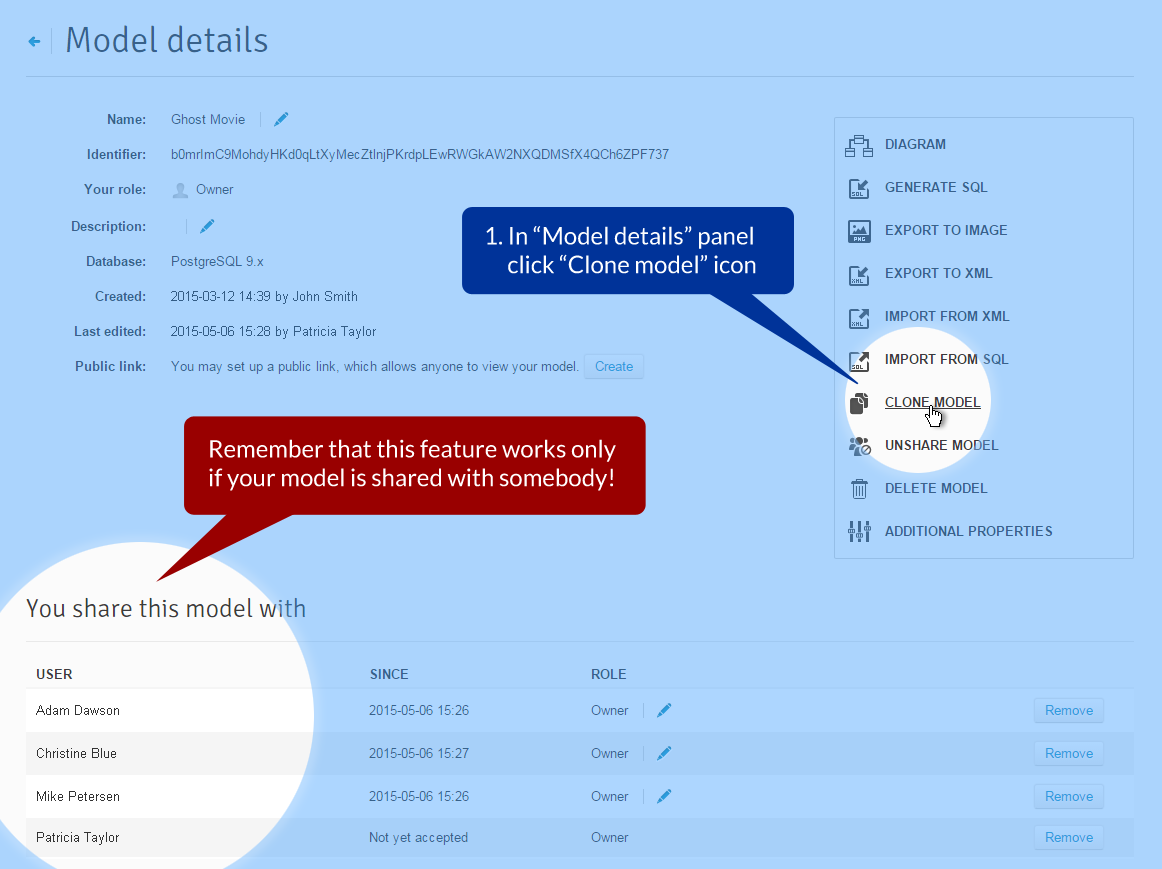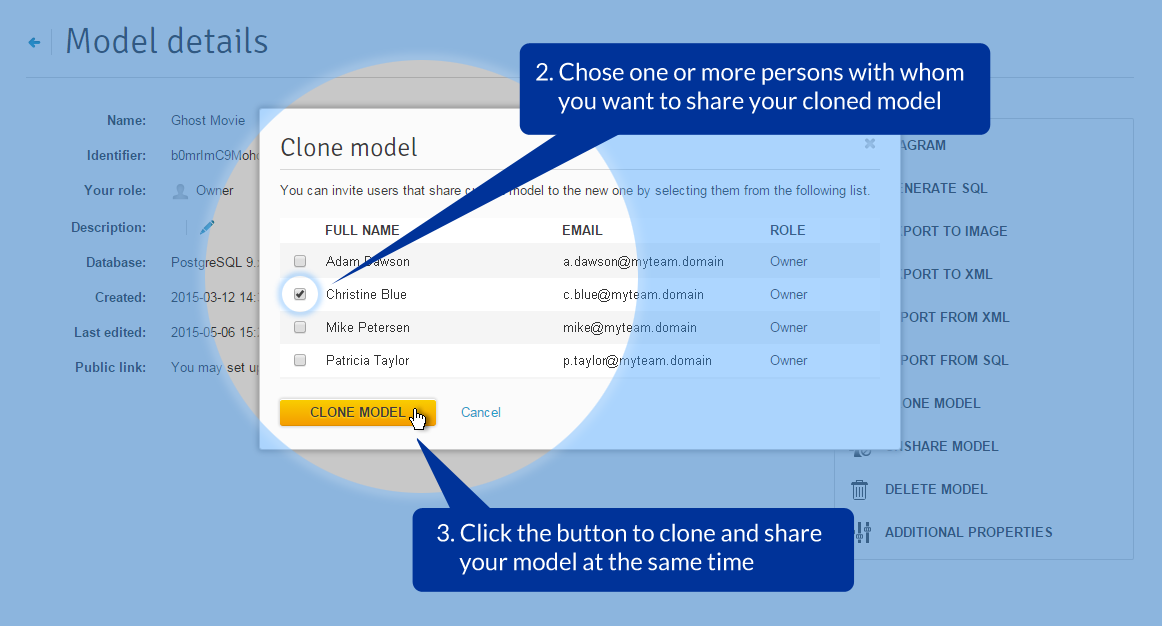 Note that this function works for the "Clone model" operation as well as the "Create new model from version." That is especially helpful when you use the clone operation to simulate branches of your model.
5. Ability to Change Your Email Address
Previously, you couldn't change the email address associated with your account. With this latest release, we've finally heard your feedback and implemented this ability. There is only one restriction – users with academic accounts cannot change their registered email address. The reason is simple – one can use the academic account plan only when he or she uses an email address in the academic domain. Therefore, changing an academic email address equals a loss of student or lecturer status which means the user no longer qualifies for an academic account.
There's one important thing you should know about changing your email address.
Upon submitting a new address you can use your account right away without any restrictions. We won't block your account until you verify your new email. Of course, we will send a verification link to the address you have provided. But, as of now, clicking the link is not a condition of using the account. You will be able to sign in with your new address and work on your models without having your email verified yet.
6. Easier User Selection When Sharing a Model
When your team is large, sharing database models with many co-workers may be quite annoying if you have to type each person's email address. The more people you have on your team, the harder you must work to invite them to edit your model.
That's why we decided to make your team collaboration easier.
For team accounts we added new functionality which allows you to choose users directly from a list. Now, on the "Share model" screen you will find a "Choose users" button next to the "Email" field. Just click this button and the list of all your team members will appear. Select the checkbox next to the user with whom you want to share your model.
Note that this feature works in team account plans only.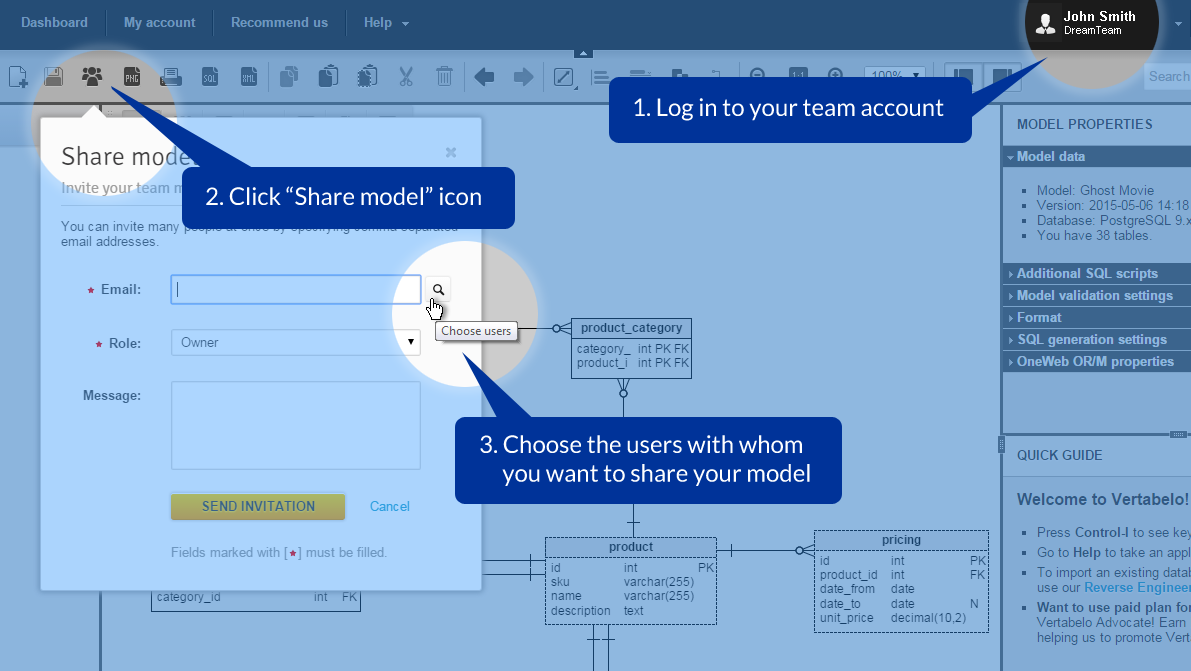 7. A Progress Bar Indicating the Use of Your Table Limit
Within your workspace, we have implemented a progress bar indicating the current tables limit consumption. The progress bar indicates how many tables out of your limit have been already used. This is to help control how you use your plan account's limits.
When you start working on your new database model, the bar is green. It stays green as long as you have quite a lot of tables to use in your model.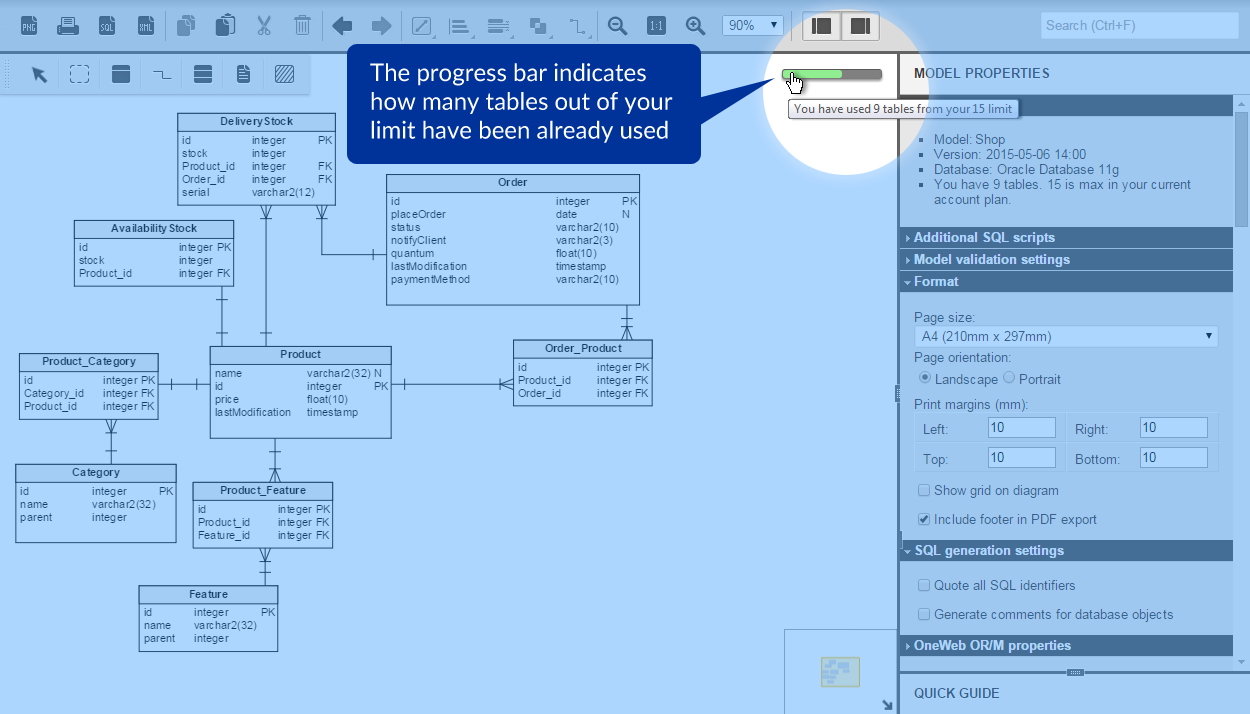 When you're approaching the limit, the bar becomes orange. And when you use the last table available in your account plan, the bar turns red.
What do you think of these new features? Let us know.
If you have your own ideas for new features or you think that something could be improved in our application, do not hesitate to share your opinion. You can use our Support Service to share your ideas with us and other Vertabelo users. There, you can find some new feature requests which are evaluated by our community members.
By submitting your ideas and comments, or upvoting and downvoting new feature requests you can have a significant impact on the development of our application. So do not sit quiet. Tell us what you want!